Don Edgar is a homage to the owner of a coffee farm who carries the same name. Don Edgar embodies everything we stand for: transparent communication, close collaboration with local farmers and respect to this ancient craft. This all, resulting in high quality Colombian specialty coffee traded for a fair price.
"Don Edgar goes beyond selling coffee. We closely collaborate with the farmers in order to refine and improve the post-harvest process where possible.
Part of this is done by providing education and building communities.
In this way we honor the origin of our product."
Joram Bennekers.
We care for everyone in the chain, we believe that producing a genuine product is about creating connections. One of our goals is to work in close collaboration with the farmers, this means fair prices and full transparency. This all, resulting in high quality Colombian specialty coffee traded for a fair price.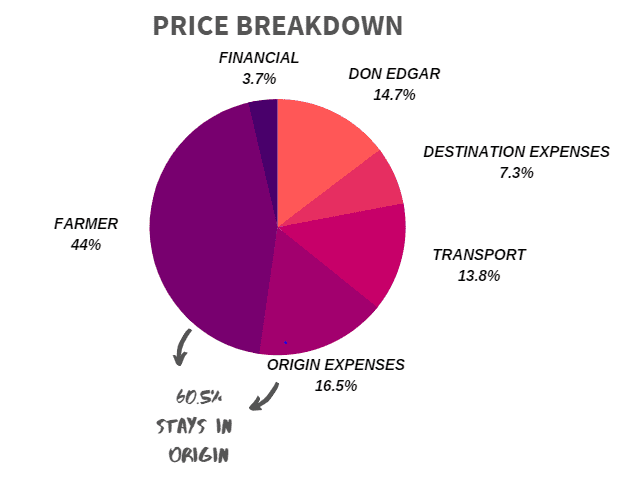 We care about the quality of the beans, the development of the processing and the environment.

Are you familiar with our project
Bring Back Native Trees?
We source and collaborate with specialty coffee farmers in origin.


Have you heard of our Marry Your Farmer project?
We bring the best specialty beans to your roaster, transparant, sustainable and direct lines.


Did you know that roasters in more than 10 European countries trust us?
"Coffee for me is not just a tasty beverage, it is my passion. As being part of a fourth-generation coffee farmer, coffee was always part of my life. As a little kid I was already intrigued by the process: sowing at the right time, working hard to provide all the crops with what they need and the craft of harvesting followed up by the refined process of roasting. For me this process is a form of art that needs to be valued."
"This is why I dedicate my life to improve post-harvesting processes and to stimulate direct trade with roasters. In this way my dream comes true: contributing to the Colombian coffee heritage and helping our family business"
"Don Edgar was born when several factors came together in my life: having Colombia as my second home, the enjoyment and social aspect of coffee and my desire to contribute to the world. Year after year I travelled to Colombia to learn more about the coffee production. In this scenic hilly land, coffee farms are omnipresent."
"This gave rise to my journey into the world of coffee. After diving into this delicate process, I became aware of its depth. This in terms of the variety in beans, flavours and colours but besides, the farmers and their families. Their stories really touched me. Values as transparency, justice and connection I hold close to my heart. Therefore, my personal ambition is to bring the craftsmanship of producing high quality specialty coffee together with good working conditions and fair prices for the farmers."
"I have worked in the coffee industry in Colombia for over 15 years in sourcing, roasting, cupping and was a small-scale farmer myself. I understand the reality of coffee producers, so I work daily with the thought that our labour supports the hard work of every farmer."